September 29, 2023 4:14 pm
Leave your thoughts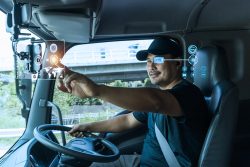 Artificial Intelligence (AI) has been revolutionizing various industries, and the trucking industry is no exception. With the ability to automate and optimize various processes, AI has the potential to improve efficiency, safety, and profitability in the trucking sector. In this blog post, we will explore the impact of AI on the trucking industry and discuss its potential benefits.
1. Automation of Truck Operations:
One significant way AI is impacting the trucking industry is through the automation of truck operations. Automated vehicles powered by AI technology have the potential to reduce the need for human drivers, which can lead to significant cost savings for trucking companies. Furthermore, AI-enabled trucks can operate more efficiently, optimizing fuel consumption and reducing emissions.
2. Enhanced Safety Measures:
AI can play a crucial role in improving safety measures within the trucking industry. AI technology can analyze and interpret vast amounts of data in real-time, enabling trucks to detect and respond to potential hazards on the road more effectively. Features such as collision avoidance systems and driver fatigue monitoring can help reduce the number of accidents and improve overall road safety.
3. Route Optimization and Traffic Management:
AI-powered algorithms can analyze various factors, such as traffic patterns, road conditions, and weather forecasts, to optimize truck routes. These algorithms can help trucking companies minimize fuel consumption, reduce delivery times, and avoid congested areas. By efficiently managing traffic flow, AI can contribute to a more efficient and sustainable transportation system.
4. Predictive Maintenance:
Maintaining a fleet of trucks can be a costly and time-consuming task. However, AI technology enables predictive maintenance, which can help trucking companies identify and address potential mechanical issues before they escalate into costly breakdowns. By collecting and analyzing data from truck sensors, AI algorithms can detect patterns and predict maintenance needs, maximizing uptime and reducing repair costs.
5. Improved Logistics and Supply Chain Management:
AI has the potential to revolutionize logistics and supply chain management within the trucking industry. Advanced AI algorithms can optimize load planning, inventory management, and route scheduling, leading to improved efficiency and reduced costs. AI-powered systems can also provide real-time tracking and visibility, allowing shippers and customers to track their deliveries accurately.
6. Driver Assistance Systems:
AI technology can assist truck drivers in their daily operations, providing them with real-time information and assistance. Features such as adaptive cruise control, lane-keeping assist, and autonomous emergency braking can help drivers navigate the roads safely. This not only improves safety but also reduces driver fatigue and improves overall job satisfaction.
7. Resource Allocation and Demand Planning:
By utilizing AI algorithms, trucking companies can optimize resource allocation and demand planning. AI can analyze historical data, current trends, and market demand to help companies make informed decisions about fleet size, staffing, and service offerings. This can result in more efficient use of resources and increased profitability for trucking companies.
8. Environmental Sustainability:
AI technologies can contribute to environmental sustainability within the trucking industry. By optimizing routes and reducing fuel consumption, AI-powered trucks can significantly reduce greenhouse gas emissions. Additionally, the adoption of electric and autonomous vehicles, driven by AI, can further contribute to reducing the industry's carbon footprint.
9. Increased Efficiency and Cost Savings:
With the automation and optimization capabilities of AI, the trucking industry can experience increased efficiency and significant cost savings. AI-powered systems can streamline operations, minimize human errors, and eliminate manual administrative tasks. This frees up valuable time and resources, allowing trucking companies to focus on core activities and improve their bottom line.
10. Job Transformations:
While AI is expected to automate certain tasks within the trucking industry, it is important to note that it will also lead to job transformations. As the industry evolves, there will be a shift in job roles, requiring truck drivers and other industry professionals to adapt and acquire new skills. AI will create opportunities for new job roles, such as AI system operators and maintenance technicians.
Conclusion:
AI is undeniably impacting the trucking industry in numerous ways. From automation and safety improvements to optimized logistics and cost savings, AI has the potential to revolutionize the way the industry operates. As technology continues to advance, it is crucial for trucking companies to embrace AI and leverage its benefits to stay competitive in the evolving landscape of the trucking industry.
Got Questions? Let Us Help!
Since we were established in 1983, Complete Truck Service, Inc. has been the premier truck and trailer repair shop in Wytheville, Virginia. We are a family-owned and operated business with over 30 years of combined experience. Our professional staff works hard to meet your unique needs and meet your expectations. Complete Truck Service, Inc. offers a 24 hour towing, lockout, and jump-start service. We are a truck and trailer repair that works with air cushion recovery, heavy-duty diesel mechanic work, secure storage, and more. Stop now or call now to schedule our services and receive your FREE estimate!
Categorised in: Trucking Industry
This post was written by admin