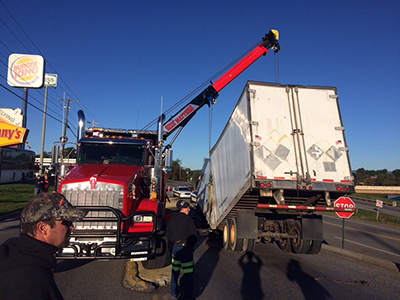 Anything from an unforeseen blowout to a damaged radiator can leave you parked on the side of the road with no way to get back on track to your destination. Instead of standing idly by, waiting for some other mobile truck repair company to send out a towing rig, give the professionals at Complete Truck Service, Inc. a call. We'll get a truck out to you quickly, with a truck and trailer repair technician that's ready to provide a variety of critical truck road services, including:
Lockout services: Locked your keys in your truck? Lost your keys and can't get back into the cabin to retrieve important items? No problem! We can get your locks open quickly and without damage to them, to help you regain access to your truck quickly.
Jumpstart services: Dead batteries are quickly jumped when our crew arrives on site. We'll ensure you're appropriately up and running again and will even wait with you to make sure the battery isn't completely dead before you set off on your journey again.
Truck tire repair: Blowouts, punctures, and embedded debris all make it hard to get very far on the highway. We can assess any damage to your tires and help you overcome it quickly, to keep you within schedule. Truck tire repair is one of our core truck services in Wytheville, Fort Chiswell, Cripple Creek, Blacklick, or Rural Retreat, VA!
Diagnostic Approach
What sets Complete Truck Service, Inc. apart from other roadside service providers is our emphasis on utilizing mobile OEM Diagnostic Testing software for your parts. We can aptly diagnose problems in a number of critical systems, including:
Cummins Insight
International Maxxforce
Detroit Diesel DDL 8.0
Allison Auto Transmission
Most companies will not bring diagnostic equipment to a roadside service call, meaning a higher potential for towing if the problem can't easily be determined. We take pride in being able to diagnose and repair most issues at the site of the breakdown, saving you time, money and frustration when it comes to mobile truck repair in Wytheville, VA.
For more information about the roadside and wrecker services we provide or to inquire about our capabilities as a truck road service in Wytheville, VA, please contact us today by calling 276-637-4271.